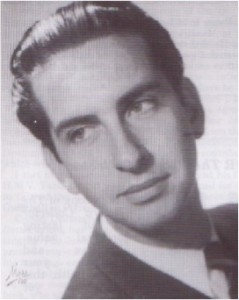 A Danish world class baritone named Frantz Rabinowitz? If you have never heard his name it's not surprising.
As a jew he had to flee to Sweden during the nazi occupation of Denmark by jumping off the ferry to Bornholm and swimming ashore – and after the war he continued his career in Hollywood and did a screen test for a film featuring Deanna Durbin. But Frantz Rabinowitz died at the outrageously early age of thirty, and what would certainly have been a major international career was cut tragically short.
Listen to his recording of Germont's aria from Verdi's La Traviata and judge for yourself. And below the clip you can read the dramatic and fascinating story of his short life:
On Monday 30th August, 1948 a meeting was scheduled by Dansk Discophil Forening, the Danish record collector's society in Copenhagen[1]. One of the society's longest standing members was to play his latest acquisitions and talk about his adventures in America. This was something that many members had been looking especially forward to, as the speaker was a very special member. Not only was he the owner of a splendid collection of early acoustic vocal records – he was also an outstanding baritone, who had just embarked on a career in the USA. But Frantz Rabinowitz never did give the talk to the society. He died nine days before the meeting – only thirty years of age.
The story of the Rabinowitz family in Denmark took its beginning in 1910, when Max Rabinowitz emigrated from Königsberg to Copenhagen to establish himself in the hide and skin trade. He married Ebba Wennerholm-Petersen and they had three children; Harry, Frantz and Mirjam. Frantz, the youngest, was born on 22nd January, 1918, and he and his brother Harry were both very musical; already before their teens they founded a mutual record collection[2]. They preferred singers of the acoustic period, and they were also fond of singing themselves.
After elementary school Frantz was sent off to the country. Here he was trained in farming, and later in his career the glossy magazines were only too happy to arrange photo sessions with Rabinowitz dressed as a farmer singing to the cows. Farming, however, was not what Frantz wanted to do for the rest of his life. He was now sixteen years old, and he told his father that he wanted to be a singer – no matter what. So, Max Rabinowitz took his son to Egisto Tango, at that time conductor at the Royal Opera in Copenhagen. Tango listened, and he liked what he heard. He recommended a teacher for the young boy; the baritone Holger Bruusgaard of the Royal Opera (who himself made quite a number of recordings), and this turned out to be an excellent choice. Frantz Rabinowitz studied with Bruusgaard for three years, developing a rich, dark voice, quite unlike the typical Nordic light baritones.
In 1937 one of Rabinowitz' great heroes, Lawrence Tibbett, came to Copenhagen. Rabinowitz asked Tibbett for an audition, and it was settled that Rabinowitz should come to the Hotel d'Angleterre, where Tibbett was staying. After hearing his young colleague, Tibbett was obviously pleased, and he presented Rabinowitz with a photo with the inscription: "To Frantz Rabinowitz with sincere belief in a splendid career and with best wishes". A year later Rabinowitz had reached the age of eighteen, and for two years he was now enlisted as a soldier. He still kept up his singing, though, and being himself extremely interested in records and recordings, he was eager to record his own voice. The result was two acetates recorded in in February 1938 in the home of pianist Erwin Berg, who also accompanied the two items recorded that day. Both the recordings show an inexperienced baritone, not always in pitch. The overall impression is of rather crude interpretations, but still one hears the potential qualities of his voice.
Rabinowitz was responding well to Verdi and the Italian repertoire, and it was natural that he would want to continue his studies in Italy. He had spent many evenings in front of the radio at home listening to broadcasts from Milan and Rome, and after leaving the army he could not wait to see the country for himself. In March 1938 Frantz Rabinowitz left Copenhagen to study with the soprano Giuseppina Finzi-Magrini in Turin. The first thing he did after arriving in Turin was to go to the Teatro Vittorio Emanuele; he wanted to hear Italian opera in natura. During the three-week stagione here, he heard La Bohéme with Angelo Minghetti as Rodolfo and Rosetta Pampanini as Mimi Cleopatra by Armando la Rosa Parodi with the tenor Alessandro Granda, Boris Gudonov with the bass Tancredi Pasero, and Die Walküre in Italian with Giuseppina Cobelli as Sieglinde, Fiorenzo Tasso as Siegmund and Andrea Mongelli as Wotan. But the highlight of it all was the last performance, Otello with Aureliano Pertile. Rabinowitz later wrote about this experience in Discophilen, the journal of Dansk Discophil Forening,:
That particular performance still stand out in my mind as my greatest experience during my one and a half years in Italy. I had last heard Pertile on the radio when he created Nerone by Mascagni at La Scala. It was a wonderful part, but it was said to have ruined his voice. He did not sing for two years, and then he suddenly appeared as Otello in Bergamo. It was the first time in his career he had taken on this part, and now it was time for him to present it in Turin. The excitement was enormous. I clinged to the arms of my chair during the opening scene. Then he appeared in a splendid armour, and the "Esultate" trumpeted out in the theatre like a fanfare. The voice was fantastic, quite different from what I had expected. […] The second act was an experience of the highest achievable art. The duet "Si pel ciel" was sung with a power and feeling that I do not think even Tamagno would have been able to top. In the third act Pertile reached the divine. I shall never forget how he threw Desdemona to the floor with the words "Aterra a piangi!". One was shattered in the soul. In "Dio mi potevi" Pertile revealed the soul of Otello as if he tore the heart out of everyone in the audience. When he fell to the floor at the end, I was almost certain that he really was done for, at that we would not hear the last act. Finzi-Magrini, who was with me, knew Pertile and I asked her if we could go and see Pertile during the interval. He sat in an armchair, breathing heavily. Otello's torments were obviously still in his mind, and it was quite a while before he collected himself and he greeted us. We only stayed a moment, but long enough to convince me that we would certainly get the final act. This was dominated by the death of Otello, and after the performance the applause would take no end. I staggered out of the theatre with the memory of a singer who is no less than a genius. […] A year later I heard him on the radio as Canio. It was pathetic. Pertile was now definitely finished, and he did not sing again. I'm happy to have experienced his Indian summer.[3]
Rabinowitz was thrilled to be in Italy, not only because of the opportunity to hear the singers of the day, but also because this was where many of the singers he knew from the Fonotipias and G&Ts in his record collection were still living. He knew that his teacher herself had made some black G&Ts:
I found some of her records at the flea market in Turin, and the next day I showed them to her. She refused ever having made the recordings, and stated that they had to be "dreadful in their antiquity". However, I convinced her of the the records' excellence by playing them to her. She did admit that the voice was hers, but she still could not remember the recording sessions.[4]
Rabinowitz met many others of the early Italian singers he knew from his record collection; Guerrina Fabbri, Giuseppe Borgatti, Alice Cucini – and also Rosina Storchio, the creator of Madama Butterfly, whom he met visiting Verdi's Casa di riposo in Milan.
Rabinowitz studied with Finzi-Magrini for more than a year, and his voice developed both regarding timbre, volume and range. He was of course hoping for a chance to perform while he was in Italy, but a Jewish name did not make things easier, so he used the name Francesco Dammarchi. In the spring of 1939 it happened: He was offered to sing Amonasro with an Italian touring company. The performances were to take place in Nice, alongside no other than Francesco Merli and Gina Cigna. But nothing ever came of it because of the political problems between Italy and France. It must have been a great disappointment to Rabinowitz, but another offer soon arrived; this time regarding a complete recording of Orfeo by Monteverdi.
For three months Rabinowitz lived at the Lago di Garda and worked on the part of Orfeo in the home of Giacomo Benvenuti who was in charge of the preparations for the forthcoming recording sessions. Everything was ready for the recording scheduled for October, but again Rabinowitz was unlucky. The War broke out, and the English recording team had to return home. Nothing ever came out of the project, and again Rabinowitz was disappointed. Italy now seemed hermetically closed for a foreign, Jewish baritone looking for work, as it was impossible to obtain a working permit. It was time for Rabinowitz to return to Denmark.
He returned to Copenhagen in the autumn of 1939, to a Denmark still not occupied by Germany. In November Rabinowitz entered a recording studio for the first time. The two private recordings made for him by Scandinavian HMV are among his best recordings. Made just after his return from Italy, they are evidence of the astonishing improvements Rabinowitz made in those one and a half years. Here is a singer full of confidence, ready to conquer the operatic world. Especially his rendition of Posa's death is outstanding, with wonderful line, and all previous difficulty with pitch has now vanished.
Here is the death of Posa from Don Carlo from this session:
He was, of course, hoping to get a contract with the Royal Opera as soon as possible, but again things did not work as well as he had hoped for. Not until March 1940 was he granted an audition, where he sang exerpts from Don Carlos and Das Rheingold. Rabinowitz was accepted for a debut performance at the Royal Opera, but nothing was mentioned as to when that could take place.
Anyway, Rabinowitz had plans of his own; his father agreed to pay for a concert debut with the Copenhagen Philharmonic Orchestra and the conductor Emil Reesen. Two supporting singers from the Royal Opera were also engaged; the soprano Margherita Flor and her husband, the tenor Thyge Thygesen. Rabinowitz was only twenty-two, and the press wrote all about the young baritone and his unusual debut. This was all or nothing for Rabinowitz. The debut was first scheduled for 14th February, but Rabinowitz caught the flu, and the concert had to be postponed to 1st April. Every critic in Copenhagen was there.
After the Tancredi overture Rabinowitz sang "Vi ravviso" from La Sonnambula. And from then on all the music was by Verdi:. "Cortigiani" from Rigoletto, "Invano Alvaro" from La Forza del Destino (with Thyge Thygesen), "Ciel! mio padre" from Aida (with Margherita Flor), "Di provenza il mar" from La Traviata, and finally all three singers joined together in the trio from act one of Il Trovatore. This programme was a huge gamble, but the next day the critics all agreed that the programme had been selected wisely to show off the italianate dark baritone voice of Frantz Rabinowitz:
…his voice can be like black velvet, but he is more than just a lyric baritone; he is also a musical-dramatic talent. There can be no doubt that Rabinowitz will reach the highest […] he is the greatest talent to show itself in a long time, and he has a demon inside him. It is safe to bet that he will be a real star in a couple of years…[5]
Even the critic most feared by all Danish singers and musicians, Hugo Seligmann, was pleased:
…He was beautiful. The female expert on these matters who was sitting next to me declared that his hair was dark like the jungle, he had eyes that saw, a sensitive mouth and a rather weak chin, but what can be expected of one only twenty-two years of age. And he was tall too, handsome, elegant and slim […] Bellini was not very good, rather sad actually. Noted only to tease. Because after that came Rigoletto, and what a performance! Impudently brilliant. What a voice […] if one should sing Verdi, one should sing him with a voice like the one Frantz Rabinowitz possesses. His voice could love, it could hate, it could revenge and threaten…everything done very Verdian, that is in a grand and masculine way…[6]
It had obviously paid off to spend around 3000 kroner (a small fortune in those days) on a debut. But eight days later the War came to Copenhagen – Denmark was now occupied by Germany. This was of course a setback for a young, promising Jewish singer, but even so it did not take long before the next engagement came along. The tenor Stefan Islandi cancelled a concert performance on 17th May at the Tivoli Concert Hall, and Rabinowitz was called in as a replacement. Again, the press was very favourable. But there were still no sign of a debut at the Royal Opera, and while waiting for more serious engagements, Rabinowitz appeared in various variety-shows who could use a good-looking baritone singing popular arias and songs.
In 1941 Rabinowitz recorded 6 sides at two sessions for Polyphon in Copenhagen. Sadly, only two sides is of opera – the remaining four are songs. The Traviata-aria is an example of Rabinowitz' inclination towards slow tempi. He is in wonderful voice, though, and gives a fully matured interpretation of the aria. "Nemico della patria" from Andrea Chenier is marred by an orchestra who clearly is sight-reading the score, but in spite of this Rabinowitz gives a powerful and dramatic account. The reason for Rabinowitz to record four sides of songs is perhaps the popularity of the song-recordings the tenor Aksel Schiøtz recorded for HMV. Polyphon was surely looking for a singer to compete with Schiøtz in the more popular field. A shame that Polyphon did not record Rabinowitz in arias from Faust, Rigoletto, Ernani or Un ballo in maschera – all music in the repertoire of Rabinowitz at the time. Here is the Nemico della patria from Giordano's Andrea Chénier:
In February and March 1941 Rabinowiz and Stefan Islandi toured Denmark with a staging of La Bohéme by the Hermann Florent Touring Company – forty-two performances in all. This gave the young singer his first experiences on stage, and now the Royal Opera felt it safe to offer Rabinowitz the part of Marcello for a debut on 17th April.
That evening he sang with Stefan Islandi (who at this time was not a regular member of the ensemble but still appearing as guest), Edith Oldrup, Einar Nørby and Poul Wiedemann, with Johan Hye-Knudsen conducting. The part of Marcello was not ideal for Rabinowitz to show the audience and the critics what he could achieve on stage, and the newspapers wrote again of his wonderful voice, but wanted to hear him in parts like Wolfram, Escamillo or Germont pére before judging his talents for the stage. Sadly, they never got a chance to hear him in any of those parts. During the next year Rabinowitz sang in several broadcasts by the Danish Radio and gave recitals in various cities in Denmark. But the times were turning against Rabinowitz. In February 1941 both conductor Johan Hye-Knudsen and soloist Stefan Islandi cancelled a concert performance with The Copenhagen Concert Society, and Emil Reesen took over the conducting and Rabinowitz replaced the tenor. Two days after the performance the Danish pro-nazi newspaper National-Socialisten wrote about the "communist conductor Reesen" and his choice of a replacement for Islandi:
…Reesen had a good opportunity to engage a promising, young Danish or Nordic singer, but […] loving the Jews he chose Mr. Frantz Rabinowitz (what a Danish, what a Nordic name!) to perform at the Concert Society. Mr. Rabinowitz (his name reminds one of Jews in the former [sic] Poland) is certainly a tasteful replacement for the great Icelandic singer…[7]
Fortunately, the Danish pro-nazis were not in any way forming the public opinion – a reverse effect is more likely to have been the outcome of an article like this. Rabinowitz was still engaged for broadcasts and concerts – and in March 1942 he sang on Swedish Radio for the first time. But he had to wait until 24th November, 1942 to sing at the Royal Opera again, this time as Count Luna in Il Trovatore, opposite Niels Hansen, Else Schiøtt, Ingeborg Steffensen and Magnus Andersen. The conductor was Egisto Tango, the same who some eight years earlier had heard the possibilities in the voice of the young man. The critics were once more enthusiastic about the voice – but they were not too keen on his acting. Rabinowitz obviously still lacked experience on stage. However, the Royal Opera did not give him an opportunity to earn that experience; apart from two more last-minute performances of La Bohéme in November 1945 (where he sang instead of the indisposed Henry Skjær) he never sang at the Royal Opera again.
In October 1943 Jews all over Denmark were warned that they would soon be arrested and deported to concentration camps abroad. Most managed to escape to Sweden, including Frantz Rabinowitz. He was hidden by friends on the ferry from Copenhagen to the Danish island Bornholm, sailing close to the Swedish coast. Rabinowitz jumped overboard and swam ashore. Already on 27th October, 1943 he sang on Swedish radio, and a couple of weeks later he sang at a concert at the Konserthuset in Stockholm. The rumour of the young brilliant Danish baritone had already whetted the appetite of the Swedish press:
One did not have to listen for long to tell that the rumours about his successes in Copenhagen were true. He can chisel out a phrase with convincing power and he has an intensive fire in the renditions…[8]
In December 1943 Rabinowitz appeared in concerts both in Göteborg and in Stockholm; and it was probably during this time he took lessons from the Scottish tenor Joseph Hislop, at that time living in Sweden. In March 1944 he joined the Danish Brigade in Sweden, where he got to the rank of corporal. On 29th May, 1945 Frantz Rabinowitz returned with the Brigade to Denmark. He was overjoyed to be back in the liberated Denmark, and on 19th August he again sang on Danish Radio, a concert with the tenor Niels Hansen. Two months later he appeared on radio again, this time singing a medley of American songs with the alto Else Brems – music that had been banned during the German occupation. His popularity grew; on 12th October Rabinowitz's picture was on the front cover of Det ny Radioblad – the Danish Radio Magazine. During the winter 1945-46 Rabinowitz was busy singing not only more concerts at the Danish Radio and the two performances of La Bohéme at the Royal Opera, but also singing in concerts all over Denmark. Together with the pianist Elvi Henriksen and two cabaret-artists he toured the province in February and March 1946, giving forty performances in forty-two days.
In March Rabinowitz was in all the Danish newspapers; he had been suggested as partner for Deanna Durbin in Hollywood, and he even made a screen test that was sent to Hollywood. The man behind this was his brother, Harry. He was now living in America, and he had played a couple of Frantz's records for Deanna Durbin's husband who was also her manager. It seemed that Frantz Rabinowitz was just what Hollywood needed; he was good-looking, he had a wonderful voice, and he was a bit exotic coming from an obscure country far away. On 29th March Rabinowitz embarked on M/S Uruguay from Copenhagen to New York, where he arrived two weeks later. He planned to stay in America for a while; he brought his beloved collection of about 3000 vocal records with him. Rabinowitz and his brother immediately travelled to California, and another test for Universal Pictures was made. But things did not go as fast as Rabinowitz might have thought. For months he heard nothing from Universal, and he had to take a job sweeping floors to make a living. He also met an American model, whom he soon married. On 10th September, 1946 Rabinowitz had his American debut in the Redlands Bowl in California. He had now changed his name to Frank Wennerholm – this was obviously easier to pronounce, and it also had a more Nordic ring to it. Frantz was very proud when he could write home about his American debut, and he quoted the local critics:
… He came, he sang and he conquered. He has what it takes – a rich vibrant voice, commanding musicianship, a stunning physique, and sincerity of character. The spontaneous ovation after his first group showed more enthusiasm than has been demonstrated before during the whole summer season. Frank Wennerholms future career with the Metropolitan Opera Company will be watched with interest.[9]
Well, the career with the Met was not exactly secured yet; Rabinowitz had probably tried to get an audition, but either it did not turn out well or it never actually took place. No signs of Frantz Rabinowitz or Frank Wennerholm exists in the archives of The Metropolitan Opera.
In April 1947 Rabinowitz signed a contract with the manager W. Colston Leigh. He managed a number of the not quite first-rank singers from the Met; Marjorie Lawrence, Marita Farell, Lucielle Browning, Bruno Landi, Richard Bonelli and John Brownlee. Colston Leigh knew the tricks of the trade, and he soon produced press material on the young Danish singer for the use of local newspapers who only needed to fill in the date and place of the performance:
Frank Wennerholm, famous young Danish baritone of the Copenhagen Royal Opera who will sing here on ___________________, at _______________ would have been a farmer if he hadn't made singing his career. When he was fifteen years old he went to work on a farm 30 miles outside of Copenhagen. For the two years he stayed there, one of his duties was to tend the animals. He knew many arias learned from recordings, and it is doubtful whether any other herd in the Scandinavian countries ever heard so much of the music of Verdi and Puccini during the course of a farm day.
This and other equally relevant stories was now distributed to the press, and Rabinowitz and his wife appeared in the society magazines posing with two cups of coffee with the text: "Coffee hour for Mr. and Mrs. Frank Wennerholm." American publicity methods were probably not easy to get accustomed to.
But concert engagements now began to materialise. On 15th May, 1947 Rabinowitz sang with The Toronto Philharmonic Orchestra at a promenade concert in Varsity Arena, and the reviews were just what Colston Leigh needed for new publicity material: Under the headline "Wennerholm singing pleases prom group" the Toronto Daily Star wrote:
Promenaders at last night's Varsity Arena concert took favourably to tall, dark, handsome Frank Wennerholm, baritone. Giving a truly dynamic performance, the young Danish singer was recalled for several encores […] Wennerholm captured his audience first with the prologue from I Pagliacci, giving the selection the richness it deserves…followed with "A Dream" by Grieg, and the melodic Neopolitan [sic] folk song "Torna a Sorriento". He brought the house down with "Figaro" and "Ah, sweet mystery of life"…[10]
On 12th June Rabinowitz could wire home to his parents in Denmark:
Beautiful daughter arrived this afternoon – mother extremely well after easy delivery – baby weighs 6 pounds – love from the three of us – Frank.
Frantz Rabinowitz now had both his wife, Barbara, and a daughter to support. And his career was not moving as fast as he had hoped for. He still had not sung on the stage of an American opera house, and he had now been abroad more than a year. On 26th June he sang Scarpia in a performance at Carnegie Hall given by a company named "International Opera Company". The performance was, as was stated in the advertisements, "complete with lavish scenery and costumes". That performance was repeated on 8th July, and a month later Rabinowitz sang Amonasro in another semi-staged performance in Indianapolis. During the winter Rabinowitz sang concerts, many of them with the soprano Marita Farell. He sang only in minor cities, at music schools, colleges, music clubs and with amateur orchestras. Rabinowitz sang more than forty concerts all over USA that season.
But Rabinowitz wanted to go to Denmark for the following summer – an idea his mother of course was very keen on. She contacted a Danish concert agent, who during the first months of 1948 tried to persuade the Royal Opera in Copenhagen to engage Rabinowitz. But the answer was negative; the Royal Opera had no time for rehearsals with a guest. But when Rabinowitz and his family arrived in Copenhagen in July he could at least look forward to a concert performance at the Tivoli Concert Hall. The press was eager to write about the home-coming son, and Rabinowitz answered all questions about his American career with modesty – he did not try to improve upon the facts of his struggles in the second league of the American music scene.
The Tivoli Concert was scheduled for 30th July. The programme consisted of material Rabinowitz had sung many times before; Verdi, Berlioz and Giordano. And the critics now expected not just a talented singer – but an international baritone.
His voice still has its strength in the middle range, where he lavishes his soft and rich sound on the audience. He loves to open up his voice to full power, and this indeed is impressive. But it can be rather tiring in the long run, and one felt the lack of serious artistic absorption – both regarding sound and dramatic expression […] and yet he showed in the serenade from La Damnation de Faust that he possesses the abilities to deliver much more refined singing based on dramatic temperament.[11]
This concert would be his last. A couple of weeks later Rabinowitz with his wife and daughter travelled to Sweden to visit friends and family there. While in Sweden he got ill and was brought to the hospital in Ljungby, where he died on 22nd August, 1948 from complications following an appendicitis operation.
Frantz Rabinowitz died at the outrageously early age of thirty. We now have to content ourselves with only three commercial records made by the only Danish baritone of the shellac era who could have made an international recording career.
© Henrik Engelbrecht 2016
Notes: 
[1] Dansk Discophil Forening was active in the forties and fifties, a society with about a hundred members devoted to both vocal and instrumental music on record.
[2] Harry Rabinowitz is mentioned as one of the fourteen collaborators of the 1937-edition of Bauer's Historical Records.
[3] Discophilen, June 1948
[4] Discophilen, January 1946
[5] Socialdemokraten, 2nd April, 1940
[6] Politiken, 2nd April, 1940
[7] National-Socialisten, 19th February, 1942
[8] Dagens Nyheter, 9th November, 1943.
[9] quoted from a letter by Frantz Rabinowitz to his parents, dated 23rd September, 1946.
[10] Toronto Daily Star, 16th May, 1947
[11] Berlingske Tidende, 31st July, 1948
This article was originally published in The Record Collector.