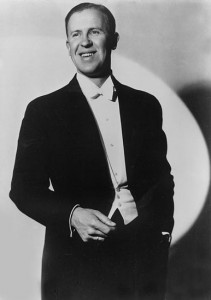 He was almost synonymous with the Danish national song heritage as well as being one of the 20th century's truly remarkable lyric tenors. His career spanned over little more than a decade. It was crudely interrupted in 1946, when he barely survived a tumor acusticus operation that changed his voice forever. The recordings he made after the operation – as a baritone – does not in any way compare with the ones he before his illness.
I can't remember when I first heard the voice of Aksel Schiøtz. I don't think many Danes can. Just like Edith Piaf in France or Frank Sinatra in the United States he just seems to have always been there. But I am quite sure that whenever I heard Schiøtz first it must have been on the radio, probably during the popular Sunday afternoon request-hour. Not many Sundays went by without Aksel Schiøtz singing one of the popular songs from Emil Reesen's operetta Farinelli and it is indeed difficult to grow up in Denmark without ever hearing the Danish songs by Nielsen or Weyse sung with the velvety sound, the clarity of diction and the pure musicianship of Aksel Schiøtz.
Just what makes a singer stand out from the crowd is not always easy to tell, but with Aksel Schiøtz I am certain that it is his youthful, almost boyish open sound. The voice we hear on the records is a well-focused, truly lyric tenor with a perfectly placed vibrato. It sounds so natural and effortless, and still has a very personal ring to it.
Few Danes are aware that the man who still today is almost synonymous with our national song heritage is also one of this century's truly remarkable lyric tenors. His career spanned over little more than a decade, until it was crudely interrupted in 1946, when he barely survived a tumor acusticus operation that changed his voice forever. The recordings he later made as a baritone does not in any way compare with the ones he before his illness.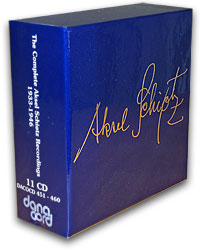 During the years from 1933 to 1946 Aksel Schiøtz recorded more than 200 sides for HMV. In the autumn of 1996 the Danish Danacord label launched the first of ten volumes in a complete edition of the recordings made by Schiøtz as a tenor, now available in an 11-CD box at bargain price. The sound restoration was done by Andrew Walter at EMI's Abbey Road studios, and Danacord all along collaborated with Gerd Schiøtz, widow of Aksel and at that time still living in Copenhagen. 'I have never heard Aksel's voice sound so natural on record as they do now' said Gerd Schiøtz, then aged 89. 'These new transfers are superior to all previous attempts that I have heard.'
Aksel Schiøtz was born in 1906 in Roskilde, just 30 kilometres from Copenhagen. After language studies at the University of Copenhagen he became a schoolteacher, but his interest in singing took all his spare time. Two persons would soon encourage the young teacher to make a career of his voice. In 1931 Schiøtz married Gerd Haugsted, who came out of a musical family, and who was soon acting as a combination of wife and agent for Aksel. And she was not the only one to guide his career. 'I had a competitor whose influence on my dear husband was to last for many years, and would sometimes closely resemble tyranny' says Gerd Schiøtz. This competitor was Mogens Wöldike, whom Schiøtz met at the age of 24. Wöldike, himself then only 32, was already a man of considerable power in the musical life of Denmark. He was not only working as organist at one of the foremost churches in Copenhagen, but was also examiner at the Royal Conservatory and the University of Copenhagen, conductor of the famed Palestrina choir, and was continuing the work of Thomas Laub in restoring the Danish church singing traditions.
Aksel Schiøtz became a member of the Palestrina Choir, and when Mogens Wöldike in 1931 formed the Copenhagen Boys and Male Choir, Schiøtz was chosen as one of the tenors. The foundation of this choir was a school for boys with special emphasis on music in the curriculum, and the fact that he convinced the Danish authorities to support this idea tells us much about the energy, boldness and authority of Mogens Wöldike. But he was a man not to be contradicted. Gerd Schiøtz: 'We nicknamed him 'The Wöldike' and the term was used in our home like 'The Lord' and 'The devil'.'
Wöldike soon gave Schiøtz solo parts in the oratorio concerts given by the boys choir. Schiøtz himself has described the rehearsals with Wöldike: 'Wöldike's rehearsals with soloists had, with all their relaxed mood, a feeling of examination. It went without saying that you had done your utmost and that you had learnt your lesson, so that he could put his artistic stamp on your performance.' Volume one of the Schiøtz edition contains 10 minutes of a previously unissued rehearsal where Wöldike conducts two Handel arias, and the brief spoken dialogue between Schiøtz and Wöldike clearly shows their teacher/pupil relationship.
Schiøtz did his first recording in 1933 on the Polyphon label as an anonymous member of a jazz-inspired ensemble (Polyphon X50 190). In spite of this and other early attempts in the studios his serious recording career only began a couple of years later. Someone heard Schiøtz around Christmas 1937 – someone important. On 17th January 1938 Aksel Schiøtz wrote to his wife:
'Telephone call from Hartkopp, head of Skandinavisk Grammofon (Danish HMV). He said, 'Take hold of yourself, Schiøtz. Yesterday I was told by our London Office to find the singer A.S., presumed to live in Copenhagen, and to make some test records, a concert aria by Mozart and an aria from Die Entführung, paid for by the London Office, and without obligation on either side.' Hartkopp was quite dumbfounded, he did not know anything about me…'
And so, on 1st March 1938, Schiøtz recorded the requested tests for London. Only one side of three has survived, the first part of 'Per pietà, non ricercate', KV 420. Apparently the London HMV office liked what they heard, and they suggested that the Danish branch should record Schiøtz in a series of Danish songs. But Hartkopp had already done so himself, knowing that if London was interested in a young Danish artist then he was worth serious attention.
Whenever Schiøtz made important decisions Wöldike was consulted. And one decision had to be taken sooner rather than later; until now Schiøtz had divided his life between teaching at several schools and singing as a semi-professional tenor, but now time was simply inadequate. Schiøtz finally gave up teaching.
HMV in London wanted Schiøtz to come over at the specific request of Fritz Busch who had heard Schiøtz and was considering him for Glyndebourne. On the 4th July 1938 at 11 am Schiøtz sang for a distinguished panel at HMV, among them Fred Gaisberg, Rex Palmer and Lawrence Collingwood, and they all agreed that HMV would take Schiøtz under their wings.
The very next day Schiøtz travelled to Glyndebourne where the panel was no less frightening; Fritz Busch, Carl Ebert, Rudolf Bing and the owner of the estate, John Christie. After hearing Schiøtz, Busch gave him the advise to choose between the oratorio- and concert repertory or the opera. Busch tended to believe that the voice did not have enough 'bite' for opera, but that if Schiøtz chose the oratorio all the Mozart operas would of course be within his grasp.
This was just what Schiøtz himself felt; he now wanted to educate his voice further in this direction, and again Mogens Wöldike was consulted. Schiøtz was until then primarily self-taught and he needed a good voice teacher. Valdemar Lincke was chosen, a highly respected teacher in Copenhagen, and later Schiøtz also studied in Sweden with the famous baritone and former director of the Stockholm Opera, John Forsell.
Schiøtz also kept up his work in the recording studio. By the end of 1939 the HMV catalogue could boast more than 50 song recordings by Schiøtz as well as several popular records with Schiøtz appearing under cover as 'The Masked Tenor'. When hearing these recordings with dance bands and cinema organ it is easy to understand why Schiøtz was immediately recognised by the public as the mysterious tenor; his pure voice, the phrasing and diction gives him away at once.
This recognisable voice, together with his special feeling for the Danish repertory soon made Aksel Schiøtz a popular recording artist in his home country. Most recordings were done in Copenhagen, but in May 1939 Schiøtz recorded his first attempts at a couple of songs from Schubert's Die schöne Müllerin, in London with accompanist Gerald Moore. It would be five years until Schiøtz could return to London to record the complete cycle.
On April 9th 1940 the War reached Denmark, and all thoughts of an international career had to be abandoned. Aksel Schiøtz now became a symbol of the Danish struggle for liberty, singing at open-air concerts for thousands of people wanting to sing along to the patriotic songs. He even wanted to become an active member of the Danish resistance, but they couldn't use him. His face was to well-known, and he would be much more useful to the nation's morale by continuing to sing.
It was not without danger for himself or his family that Schiøtz in this way supported the Danish nationalism. Gerd Schiøtz has her own theory on why Aksel Schiøtz never had really serious trouble with the occupants: 'I saw the German officers at Aksel's recitals. They had tears in their eyes when they heard him sing the songs they knew – especially Schubert.'
But Schiøtz fought the Germans in his own ways – for instance by insisting to sing at the funeral of the writer and vicar Kaj Munk, who openly supported the resistance and was assassinated by the Germans in 1944.
When he was on tour in Sweden he was frequently asked by Jewish refugees to bring back messages to their relatives in Denmark. Schiøtz knew, however, that all his luggage would be thoroughly searched by the German police when he returned to Denmark and that it would be impossible to conceal any letters. He then wrote the messages in his music, below the original words, and he hoped that the Germans would take the Danish words in pencil for his own translation of the text. He was never exposed.
Many of the recordings made by Schiøtz during the years from 1940 to 1945 were repeats of Danish songs. The reason for this is the fact that all matrixes had been shipped to London for pressing, and now the War prevented all import from the allied countries. For Aksel Schiøtz the War may have been a boost for his local recording career in Denmark – but it also was a serious blow to his dream of an international career.
After the liberation of Denmark on 5th May 1945, Schiøtz had to fight a new struggle. He had been labelled 'singer of Danish songs', everybody wanted him to sing the same repertoire that he had done during the dark years, but he also wanted to be recognised for singing Bach, Handel, Mozart and Schubert.
In November 1945 he joined Gerald Moore in London and together they recorded one of the most consistently successful versions of Schubert's Die Schöne Müllerin. In January they recorded lieder by Grieg and Brahms (only Grieg's A Poet's last Song was issued on 78 as X 7203, the remaining 5 songs were not issued until the fifties on a 7 inch EP) as well as Schumann's Dichterliebe.  It is these recordings together with the Mozart arias conducted by Egisto Tango and the Bach, Handel and Haydn recordings with Mogens Wöldike that form the true legacy of the international tenor Aksel Schiøtz.
My own particular favourites in the Schiøtz discography are spread out pretty evenly over his recording career. I am not ashamed to admit that I thoroughly enjoy the recordings made by "the masked tenor" with cinema organ; especially the wonderfully sentimental Solens vuggevise. What I admire so much is the sincerity and enthusiasm ever present in the recordings, whether Schiøtz sings a Schubert lied or croons a popular refrain. Of the lieder recordings I have a special soft point for the 1940-recording of eight songs from Die Schöne Müllerin. It may not have the insight that the later complete recording has, but the voice is fresher, and I can almost hear the excitement of Schiøtz as he records these songs for the first time. His recording of Lenski's aria from Eugen Onegin, although sung in Danish, is also a real gem – a glimpse of the operatic side of Schiøtz.
Of the many Danish songs Schiøtz recorded I am especially fond of the purity and beauty of line in his second recording of Underlige aftenlufte – one of the many Carl Nielsen songs he recorded during the War. In this song about longing for home Schiøtz together with the accompanist Herman D. Koppel finds a perfect intimate atmosphere without a touch of sentimentality.
In 1946 the future seemed prosperous for the 40-year old Schiøtz. Walter Legge was the producer at many of the London sessions and he had great recording plans for Schiøtz, and at Glyndebourne he sang the role of the Male Chorus in Britten's The Rape of Lucretia alongside Kathleen Ferrier. But Schiøtz had not been feeling well for some time and knew that something was seriously wrong. The doctor's verdict came in November; a tumour on the acoustic nerve. Operating was risky but essential, and even though Schiøtz survived, half his face was permanently paralysed. Although the doctors predicted that he would never sing again, he did fight himself back to the concert stage in 1948. But the golden tenor voice was gone forever.
In Denmark Aksel Schiøtz was still the personification of the Danish song to the public. Not many people at home recognised Schiøtz as a man who had been one of the world's leading tenors in his field. The Royal Conservatory in Copenhagen would have nothing to do with him as a singing teacher since he did not have any formal education as a singer. The Schiøtz family could not make a living from record royalties – especially since the industry was still suffering very much from post-war restrictions – and some decision had to be taken.
The solution was immigration. In 1955 Schiøtz and his family moved across the Atlantic, where he taught at universities in Minnesota, Toronto and Colorado, as well as giving masterclasses and recitals. Finally, in 1968 he was offered a professorship at The Royal Danish School of Educational Studies in Copenhagen, a position that turned out to be a disappointment. Aksel Schiøtz died in Copenhagen in 1975 of cancer caused by the radioactive contrast fluid injected in his body in connection with the operation in 1946.
The complete 11 CD Aksel Schiøtz Edition is available directly from Danacord and can be ordered here.
—
© Henrik Engelbrecht 2016.
This article is a revised version of one that originally appeared in Gramophone's special magazine International Classical Record Collector in 1997.