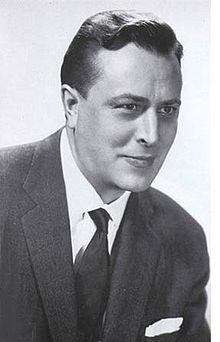 He composed a trombone concerto and two symphonies, he had a degree in chemical engineering as well as being a front-line wartime photographer. Add to this a singing career that took him to more than 30 opera houses, including The Met, Bolshoi and The Vienna State Opera, and almost 100 recordings – and you still have a fairly inaccurate picture of the versatile and multitalented Finnish bass baritone Kim Borg.
Kim Borg celebrated his 80th birthday in 1999 and the British magazine Gramophone wanted an interview. I went to see Kim Borg in his 230 square metres flat in the north of Copenhagen, and I soon sensed that this was the home of a very special singer. All the rooms were covered with bookshelves – with even more books lying on tables and on the floor. Not only scores and books on music, but books on practically any subject you could ask for. Both Borg and his wife, Ebon, were avid readers. "I read a lot. Right now I'm studying the life of Carl Linné, the Swedish botanist – a manic genius. I myself am not exactly manic, but like Linné I have always been hard working".
The son of an architect father and a music teaching mother, Kim Borg was born in Helsinki on August 7th, 1919. His mother gave him the first singing lessons, and it was obvious that young Kim had an unusual material. "Low voices is a kind of family tradition. As a boy my voice was too deep even for singing alto parts in the local boys choir." At first there was nothing, though, to indicate that Borg would end up singing professionally. "I wanted to be an architect like my father, but he advised me strongly against it. It was an insecure profession, and very little was built in Finland then. So I turned to chemical engineering for the safety in it."
But all along Borg continued to sing in local choirs, and he began to discover the repertoire for his voice. "I was a quick learner. At sixteen I sang King Philips monologue from Verdis Don Carlos – apart from the high E. That single note eluded me completely. But I sang a lot of music early on – mostly in male choirs while studying at the University of Technology in Helsinki."
"My first real teacher was a friend of the family, Heikki Teittinen. He was not the right teacher for me, and his method consisted of almost violent exercises that in the end made me lose my voice completely. That was actually the idea of his method; you have to destroy the voice as it is, and then rebuild it. It was awful. In the end I lost interest in singing altogether, and it took years for my voice to recover"
But the Continuation War, following the Winter War between Finland and the Soviet Union in 1941, changed the 22 year old Borgs life completely. He was by now an avid photographer, and was enlisted as such. This meant front line work in very difficult circumstances, and Borg considers it a miracle that he survived. "Of course I was scared, but not as much as I should have been, if I had known just how dangerous the whole thing was." says Borg today. After the war he graduated as a chemical engineer in 1946, and two years later he found himself studying musical theory and composition at the Sibelius Academy in Helsinki. All along Borg continued his voice lessons with Adelaide von Skilondz in Stockholm and Magnus Andersen in Copenhagen.
His official recital debut in 1947 did not lead to engagement at the Finnish National Opera, but through a job as Colline in La bohème with a Danish provincial company Borg eventually ended up in Copenhagen. "Gremin in Eugen Onegin is a very important part even though it lasts is only 7 minutes all together. And my succes was almost frighteningly colossal." That was in 1952, and Kim Borg was now offered a contract as a member of the Royal Opera in Copenhagen. "The salary was more than generous, but it was very difficult to sing elsewhere. You were required to be at the disposal of the theatre at all times, and this was not helpful if you wanted to try your luck at the international scenes."
Nevertheless Borg did get permission to sing abroad, and at 33 years of age his international career began taking him all over the opera-producing world. Now Borg was required not only to sing, but also to act. "At that time directors generally did not demand all those stupid things of a singer that are now common – singing lying down or with your back to the audience, for instance. I learned early on to act as little as possible, and I think I was helped a lot by my natural stage presence. I did not have to do spectacular things to get the attention of the audience, but then again it robbed me of the possibility to sing minor roles. As the 2nd Armoured Man in The Magic Flute I would simply be too imposing on stage."
In 1959 Borg made his debut at the Met singing the Count in Le nozze di Figaro – not the only role in Borg's repertoire often sung by baritones. "Don Giovanni is certainly better suited to a bass than to a baritone. Nowadays, unfortunately, baritones often sing the part – but it suited my voice perfectly." The repertoire for bass is crowded with villains and angry fathers – but Kim Borg always tried to find the human side of any character. As the demonic Baron Scarpia in Tosca he was one of the few singers to emphasise the beauty of the lines in Puccinis music. This he did with a natural phrasing that can be sampled in the complete recording he made of the opera for Deutsche Grammophon in 1961 with Horst Stein conducting a cast including Stefania Woytowicz as Tosca and Sandor Konya as Cavaradossi.
Borg is superb in blending the dark sides of Scarpia with the elegance and craftsmanship of a real seducer, but, alas, the whole thing is sung in German. This reflects the state of the German record industry in the sixties. Kim Borg signed up with Deutsche Grammophon at a time when they would issue operatic exerpts in two versions; one in the original language and one in German. "A completely silly idea altogether", says Borg today, "but I had to sing Verdi and Puccini in German if I wanted to make records at all. DG head me in Berlin and they signed me up immediately. I had the great fortune to record lieder with the eminent accompanist Michael Raucheisen. He was amazing in pieces like Schuberts "Erlkönig" – a great inspiration."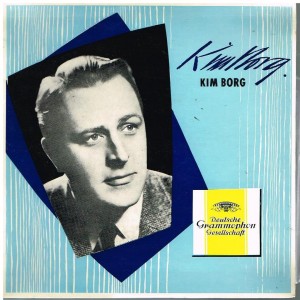 Unlike many famous colleagues Kim Borg never took much interest in his own recordings. "I never listen to them, and I do not own an even remotely complete collection of them. They simply don't interest me." One of the gems in the Borg discography is King Marke's monologue "Tatest du's wirklich?" from Tristan and Isolde recorded in 1954. Here Borg's both dignified and heartbreaking portrait of the anguished King gives as much pleasure as anyone on record. One hears how well suited Wagner is to the dark and yet flexible voice. "I have sung everything Wagner wrote within my range. He was a bastard as a person, but he really knew how to write music".
Mussorgsky is an essential composer for a bass like Kim Borg. Many will remember his superb contributions to EMI's acclaimed 1952 recording of Boris Godunov conducted by Issay Dobrowen – not in the title role but as Rangoni and Shchelkalov, two minor characters. Around the same time Borg recorded Pimen's narrative for DG, and a decade later he added Boris' monologue and the death scene for a recital LP conducted by Horst Stein. "Mussorgsky is music made for my voice," says Borg.. "I head Ezio Pinza sing some of his music in Italian, and I knew that this was something for me. He was a very musical man, but his lack of theoretical education is evident in the music. It is often said that he was an alcoholic – and he was, but then again; everyone was in Russia then! Nowadays it is common to perform Boris Godunov in Mussorgsky's original instrumentation, but I quite disagree with this. The Rhimsky-Korsakoff version is much better – and I have sung all of them, including Schostakovich', which is of course made by a genius instrumentator, but I think it is too dry – and lacking in warmth." This is clearly a favourite subject with Borg, who himself has made an instrumentation of Mussorgsky's "Songs and dances of Death", a version often performed in concert halls today.
Here's a rare clip of Kim Borg performing on TV in 1961 with Gerald Moore at the piano:
In 1965 Borg sang in Haydn's The Creation in Salzburg under Karajan. "Karajan was a unique conductor. He was so easy to work with, and although he sang terribly himself he certainly knew exactly what to expect from each individual singer. And he was never afraid of taking liberties with the music – he didn't just perform the notes, he always made music!" Listening to the live recording of the Salzburg Creation of 1965, it is obvious that Borg felt at ease with Karajan, daring to sing the parts of Raphael and Adam with all the nuances in his voice. It is interesting to compare this recording with the later patch-work studio-recording made with almost the same team (although Borg is replaced by Walter Berry as Rafael and by Dietrich Fischer-Dieskau as Adam, and Fritz Wunderlich, due to his untimely death before the sessions were completed, is sharing the tenor part with Werner Krenn). I much prefer the live version with Borg to both the Karajan studio-version without Borg or to Borg's earlier Markevitch recording, most of all because of the way Borg clearly enjoys the event of a live concert. I much prefer his no-nonsense approach to the music of Adam to that of Fischer-Dieskau, and most of all I appreciate the fact that Borg has infinitely more power in reserve for use at crucial moments than either of his two colleagues on the DG recording. In addition the live recording has Wunderlich all the way through – enough for me to listen through the rather dimly recorded sound from Salzburg.
Kim Borg is Finnish, and he never forgot his home, although he spent most of his life far from its lakes and woods. And wherever he sang in recital he brought not only the songs of Sibelius with him, he was also a strong advocate for lesser known contemporary Finnish composers like Oskar Merikanto and Yrjö Kilpinen. "Sibelius' songs are not really for my voice – they are a bit too high. The same can be said about the songs of Kilpinen, but I sang them just the same. Kilpinen was a manic worker – almost like Schubert. He wrote 600 songs, and I have done all of them. I guess I did too much Kilpinen in the end. They are nice songs, but now I'm a bit fed up with them." Borg recorded a selection of Kilpinen songs in 1959 with the pianist Pentti Koskimies. As a sample of Borgs eminent gift for acting through the microphone try out the sinister meeting between Death and the lonely drunkard in Kilpinen's "Der Tod und der einsame Trinker", or listen to the simple beauty of "Minnen". Also included on the CD are some Borgs own songs; they are more complimentary of the composer Kim Borg than of the singer, being recorded in 1979 by the 60-year old Borg in rather uneven voice.
In 1972 he had accepted a position as professor in Copenhagen. "Voice teaching really is bogus! I was appointed professor at the Royal Academy of Music in Copenhagen, and then I of course had to teach. But basically I think that singing can't be taught. The best thing a teacher can do for a student is to stay away from the voice and leave it to develop naturally. It is only possible to teach singers who themselves are bright enough to do it properly." Kim Borg admits that he himself had not only a good material in his throat but also a certain talent for music. "The musicality lies in the phrasing of the lines – not just in having an accurate ear for intonation or facility in reading music."
The interview was coming to an end and Kim Borg summed it all up: "Perhaps I was not a real singer – more of a musician" he says. "I had a quite good basic voice, but not more than that. It was the talent that made the difference. As I said before I don't think singing can be taught; you have to have it inside of you, you have to do it naturally, otherwise you can just as well forget it."
Kim Borg died in 2000.
© Henrik Engelbrecht 2016.
This article is a revised version of one that originally appeared in Gramophone's special magazine International Classical Record Collector in 2000.