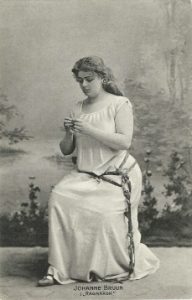 It is with deep-felt emotion I write this. Mrs. Johanne Brun has alas been forced to beg for even the most scanty help through grants. What a fate for an artist of her standing! Who doesn't remember her wonderful years at our opera and who can hear her today without the greatest astonishment? Mrs. Brun is still an artist in full bloom, and it is incomprehensible how the management of our opera can continue to reject her after she has returned from abroad – especially if they plan to stage any of Wagner's operas. […] Her current position in life must astound any man, and I can only give her application for help my strongest sympathy as a human being in admiration for her open mind and honest striving.
(signed) Carl Nielsen, Copenhagen January 1, 1926
A letter of recommendation from the famous Danish composer, for many years himself violinist and later conductor at the Royal Danish Opera where he had been able to follow the career of Johanne Brun from the very outset more than 40 years earlier. Now, at the age of 49, the Danish Wagnerian soprano par excellence was facing severe poverty after a career that had ended in inflation-stricken Germany. Her fate could have been different if the management at the Royal Danish Opera at the time had heard what we today can hear through her extremely rare records; a full dramatic voice, an ideal Isolde but with remarkable agility in coloratura – a voice comparable to a Lilli Lehmann in versatility.
Listen to her incredibly rare recording of the final scene of Wagner's Tristan und Isolde made in 1915 (the article continues below):
She was born Johanne Marie Emilie Prieme on August 23, 1874 in Frederiksberg near Copenhagen. At the age of seven she was enrolled at the school of the Royal Danish Ballet at the Royal Theatre that served then, as now, as home for both acting, ballet and opera. The children at the ballet were often used as extras and even as singers when a children's chorus was needed, and Brun was thus able to make her debut as a singer in Carmen at the age of 10.
She also heard and came to admire the local stars of the opera, one of them a tenor by the name of Frederik Brun. He had made his debut in 1876 as Rossini's Almaviva, and later turned to the more dramatic repertoire culminating with Tannhäuser, Otello, Radamès and Siegmund. He was joined at the opera in 1889 by his younger brother Johan Nordal Brun, also a tenor. Frederik Brun was 41 when he in 1893 married the 18-year old Johanne Brun.
As was the costum then the young dancer gave up her career as she entered her new standing as a married woman. Frederik Brun soon discovered, however, that his young wife was gifted with a beautiful and wide ranging soprano, and he eagerly encouraged her to take lessons from the vocal coach Miss Fanny Gætje and the conductor Frederik Rung, with whom she studied for a year and a half. But what she was taught by Gætje and Rung was sometimes contradicted immediately by her husband, a dominant and pedantic tyrant, who was fanatical about singing technique. One of his friends portraits him in his memoirs:
"He could at times be very tiring for everyone, talking at length only about himself. Especially when he was trying to teach himself a new method of singing he was taxing company. If I met him on the mail street in Copenhagen he would drag me into a gateway and begin to demonstrate a new trill or a coloratura, thus soon assembling a curious crowd."[1]
Judging from the few examples of his singing that survives on recordings today Frederik Brun did in fact not have a very good technique – the Miserere from Il trovatore recorded in 1904 reveals the ruins of a strained voice with a bleeding goat vibrato. Frederik Brun had at this time, in one of his fits of anger, left the Royal Danish Opera for good:
Frederik Brun had made a great singer of the little ballet girl, but he himself gradually faded from the public's mind, and at the turn of the century he had – for God knows which time and with under many oaths and harsh words to the management – left the theatre, and for the rest of his life tried to make a living as a café pianist in Sweden. Initially a really decent tenor, Brun's habit of making inexcusable insults to his superiors and fellow singers made him unwanted at the opera – where younger tenors as Vilhelm Herold took over.[2]
Johanne Brun quickly made sufficient progress to be granted a debut at the Royal Opera. Her phenomenal ease at the very top of her voice made the choice of The Queen of the Night obvious. Despite a few prior concert appearances, it was the performance of Die Zauberflöte on May 8, 1896 she considered her real debut. Despite a few remarks on Bruns nerves not being quite under control during the first aria, all the critics agreed that here was a singer to expect more from in the future:
The voice itself is uncommonly pure and beautiful. Mrs. Brun is made of the stuff that can create a coloratura singer of the very first class, a full, flexible, wide ranged and impressive soprano. The public's reception was indeed positive; after her first aria a storming applause broke out from the near full house.[3]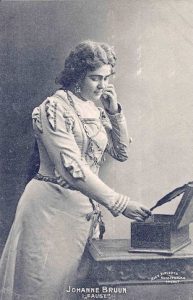 Despite the overall positive reception from both critics and audience, two years should pass before Johanne Brun was given another chance at the Copenhagen opera. This "second debut" on May 14, 1898 was to prove her able to sing more dramatic pieces and not only purely coloratura roles. Frederik Brun described his wife's voice in these terms:
"Her real force is in Wagner, but she will undoubtedly also be able to continue her development as a coloratura singer. What is still lacking is routine. She has to get used to singing in large halls. Mrs. Ellen Gulbransen has taught her how high to sing in chest voice, and I myself has taught her a few tricks I have seen Patti use abroad. My wife is an excellent pianist, by the way, and I am sure she will become a dramatic singer of the first rate."[4]
It was as Aïda that Brun made her second appearance at the Royal Opera, and this time the newspapers were even more enthusiastic, stressing the natural production and the beauty of her tone, as well as her unmannered and tasteful acting. And this time the opera management gave her a contract as soloist with the opera for the following season, where she added Margarethe in Faust and Donna Anna in Don Giovanni to her repertory.
At the end of the season 1898-99 her contract was renewed, as it was to become each year from now on. The following seasons she sang Leonora in Il trovatore, Desdemona in Otello, Elsa in Lohengrin, Ingeborg in Heise's Drot og Marsk, and she also sang in the premières of two Danish operas; Lamia by August Enna and Helgensværdet by Axel Grandjean.
The Norwegian composer and conductor Johan Svendsen had been house conductor of the Royal Danish Opera since 1883. He had played as a violinist in the Bayreuth orchestra and knew Wagner personally. Since the Danish première of Die Walküre in 1891 Svendsen had had a vision of a Danish performance of the complete Ring cycle, and on January 8, 1902 Brun sang her first Wagnerian part, Sieglinde. Her twin and lover Siegmund was Peter Cornelius, who had changed his voice from baritone to heldentenor, and who later was to sing in Bayreuth and at Covent Garden.
The critics agreed that Brun was ideal for Wagner, even though a few complained that her middle and lower range was slightly less focused than her brilliant height. With these two singers available Johan Svendsen knew that he could now slowly begin realise his dream of a complete Ring in Copenhagen.
Even though Brun was now considered essentially a dramatic soprano, she added Rosina in Il barbiere di Siviglia to her repertory that very same year. In the singing lesson Brun sang Benedict's variations on Carneval de Venise, and the public responded with ecstatic applause. But some of the critics noted problems:
Mrs. Brun has a fine coloratura throat, but it is unkempt. A Wagnerian soprano does not easily perform this delicate music. […] The thing is that she has never studied properly, and if these things are not corrected it will soon be too late, and she will have to lead a life as an unpolished artist. Last night her performance was further marred by abrupt changes of register, especially in the Cavatina […][5]
Weather this critic was right we can actually hear for ourselves today. Johanne Brun quickly became a favourite with the Danish audience – both for her singing and her beauty! She appears as one of six actresses and singers on a postcard made at this time with the title "Copenhagen's most ravishing women". It was obvious that a completely new industry kept an eye out for her to help marketing the new wonders of the age. In April 1903 Brun recorded her first batch of six sides for Skandinavisk Grammophon Aktieselskab, the Danish branch of G&T.
Around the same time she also recorded twelve cylinders – including a duet with her husband – for the local rival Dansk Fonograf Magasin, associated with the Pathé company. One of the cylinders contains excerpts from the Carneval de Venise variations Brun sang as Rosina, and here one hears the combination of a full dramatic voice, but retaining the abilities of precise coloratura and trills – all done with impeccable secure intonation. It is hard to judge her singing as harshly as Mr. Rosenfeld does above.
Besides singing at the Royal Opera, she was now in general demand in the Copenhagen musical life – especially in the Wagnerian fach. She regularly sang at concerts in the Concert Palais and in the Tivoli Gardens, often joined by her husband, now trying his luck as a baritone – but with little success. His appearances caused a mixture of amusement and pity with the critics, but Johanne Brun was invariably hailed as the supreme Danish interpreter of Wagner's heroines. And in the years to come she was to create the most demanding of them on the Danish national stage.
Johan Svendsen continued his quest for the complete Ring with Siegfried in 1903, with the star cast of Helge Nissen as Der Wanderer, Peter Cornelius as Siegfried and Johanne Brun as Brünnhilde – a great success both for the performers and for Wagner's music in Denmark. But Brun also added more lyrical and even bel canto roles to her repertory; Bellini's Norma and Philine in Mignon.
On February 23, 1905 the Royal Opera added Götterdämmerung to their repertory, naturally with Brun and Cornelius as Brünnhilde and Siegfried – another triumph for both. The critics were very positive, but their level of general knowledge of Wagner's works is reflected in the fact that none of them seems to have noticed that the scene with the three nornes had been omitted. Johan Svendsen was nearer his dream of a Ring cycle, but his health forced him to retire. On May 31, 1908 he conducted a farewell gala culminating with the third act of Die Walküre, with Brun as Sieglinde. Frederik Rung had earlier that month conducted the last of the Ring operas, Das Rheingold. Brun sang Freja at the première, and later that year added both Ortrud in Lohengrin and Woglinde in Rheingold to her impressive list of roles. It was Rung, the former teacher of Brun, who took over as house conductor from Svendsen, and as assistant conductor was employed a young talented violinist and composer; Carl Nielsen.
But even though she was now recognised as one of the leading singers of the opera, Johanne Brun was still not endorsed with a permanent contract. Where most of the singers after a few seasons were normally employed on a regular basis with pension, Brun never achieved this. One can only speculate as to the reasons, but it is certain that she was a self-conscious and open-mouthed rebel who on more than one occasion stood up against the management of the opera. It is easy to imagine her life with the pompous and frustrated Frederik Brun, and their marriage was dissolved in 1906. Johanne Brun was now alone with their 12-year old daughter Gertrud.
Meanwhile she continued her career both on stage and in the recording studios. It seems that it was a must for the companies to have Johanne Brun in their catalogues, and she is invariably among the very first female singers to record for both major and minor labels active in Denmark. In this period she recorded not only for G&T but also made records for Lyrophon and cylinders for Elektra and Edison.
At the Royal Opera the next seasons saw Johanne Brun in the six performances of the Ring between 1909 and 1912 – the only complete cycles to be given at the theatre to this day – as well as appearances as Venus in Tannhaüser. But in the following seasons Brun found herself in less demand than earlier, and sometimes there were up to eight months between her singing at the Royal Opera. It seems that there were several reasons for this. Her increasing weight problem further inhibited what was apparently never a great dramatic talent on stage, and her voice was reported to be loosing its former flexibility – not surprisingly for a Brünnhilde and Isolde. This meant that she was more or less confined to the Wagnerian repertoire and a couple of dramatic Verdi roles. But soon she was not even considered more than a second choice for even these parts. During the following seasons Brun appeared more and more irregularly at the Royal Opera.
She had to fight hard to be given the opportunity to create Isolde in Danish at the long awaited première in 1914 – even threatening to never sing at the Royal Danish Opera again if her wish was not granted.
"I have waited for this role for 10 years, now. Season after season I have had only minor things to do at the opera here, and I started to work on Isolde three years ago. In the beginning I worked in German, as I have nearly always done with Wagner, and I was astounded with the difficulty I had learning the translation. A lot of what falls quite natural in German seems almost incomprehensible in Danish. We had 60 rehearsals before the première – not many considering the length and difficulty of Tristan; for Don Giovanni we had 90!"[6]
Frederik Rung was originally to have conducted Tristan, but he had been unwell for quite some time and was consequently replaced by Georg Høeberg who turned out to be a very gifted conductor. The performance was again a triumph for Brun, and in 1915 she recorded part of the Liebestod for Odeon. Here we can witness the truly international class of singing, with broad lines and no signs of weariness of tone. If this is a documentation of the general standard of Brun's singing at this time, it is utterly incomprehensible that she was not regarded higher by the theatre management.
The atmosphere at the rehearsals for Tristan had been tense between Brun and the house stage director Julius Lehmann, and when Parsifal was premièred in 1915 it was not Johanne Brun who sang Kundry. Later she revealed in an interview[7] that Lehmann was one of her fiercest enemies; when Tannhäuser was staged for the first time in Denmark in 1910 he had simply told her straight to her face that she would perhaps be able to sing Venus but that she was too fat to portrait Elisabeth. She was nevertheless given the chance, though, on November 5, 1915.
Brun now began to seriously consider leaving Denmark. She had always been a keen traveller; apart from trips to German cities like Berlin and Dresden to hear her beloved Wagner in international performances, she had also taken a 9-week holiday in the Algerian desert with a lady friend, bringing home live souvenirs in the form of turtles and chameleons!
For a Wagnerian soprano wishing to try her luck at a career abroad Germany seemed the obvious choice. In 1916 war-time Germany was perhaps not the ideal place, and most Danish artists working there actually returned home at this time. But Johanne Brun insisted. Germany it was to be. Her last performance at the Royal Danish Opera was Aida on May 10, and the newspapers all lamented the loss:
Few people has been treated so shabby as Johanne Brun has been by our Royal Opera. While she sang one Wagner heroine after the other, it was other singers who were given titles and honour. She was not even permanently employed here. Now she is leaving at the height of her powers to go to Nuremberg. One could wish that she had done so ten years ago, so that she could now have made a name for herself abroad by now. Lets us hope that she soon will![8]  
Even though the performance was not officially a farewell gala (as Johanne Brun was not permanently employed at the opera), the King and Queen were present, and before the performance Brun was finally appointed the title of Kammersanger. But were she not sad to leave the stage where she had sung for 20 years? A Copenhagen ladies magazine interviewed the newly appointed Kammersanger:
"Absolutely not! The last couple of years at the Royal Opera has only been too painful. The conditions are much to complicated and deplorable. If I wanted a certain role I had to beg and plea everyone, and that is not my way, even though I do love my work. For several years I have been neglected – and nothing can be more devastating. I almost lost faith in myself completely. I have thought about going abroad for quite some time, but I have always resisted in the end; perhaps things here would become better. But when I had to fight to sing Isolde at the opening night – and had to threaten to resign if I was refused – I promised myself that I would go to Germany. I am sad to leave my home, but I look forward so much to getting to sing again. I have been so desperate for lack of work that I even started to sew my own clothes – something I never enjoyed. And my furniture has been repainted several times; right now it is white…"
Another reason for leaving the Royal Danish Opera was financial. Brun was not any longer receiving a fixed salary for each season, but was paid for each performance – and sometimes there would be months between her appearances. In a German house she would not only be able to sing her beloved Wagner roles, but could also easily earn much more than in Copenhagen.
Brun had a few years earlier heard the German heldentenor Alois Pennarini, and she admired his Tristan very much. He was now the artistic director at the Stadttheater in Nuremberg, and Brun wanted to try her luck at a house where Wagner was the core of the repertory. But in Copenhagen she had for years sung everything in Danish, so ahead was more hard work re-learning her roles in German. She spent eight months with a coach in Copenhagen and a further two in Berlin. Here Brun could also get a first hand impression of the conditions in Germany – and she was surprised that they were as good as they seemed, and that prices were reasonable:
"In my experience it is cheaper to dine in restaurants in Berlin than in Copenhagen. My daily dinner – consisting of soup, then fish or another side dish, then roast beef with several kinds of vegetables and finally a dessert or cheese and bread – cost, with a glass of beer and tips, only two mark."[9]
No wonder that Brun had gained a considerable weight since her days with the ballet. After the intensive studies in Berlin she finally felt ready to go to Nuremberg to audition for Pennarini. She sang from Götterdämmerung, and did it so well, that she was offered a "trial-evening" as Isolde at the theatre on March 3, 1916. Pennarini sang Tristan himself, and in spite of this being her first performance in a foreign language (and the fact that Brun was not granted a rehearsal!) she convinced both audience, Pennarini and the critics; she was offered a two-year contract from August that year – earning more than four times the amount she could expect in Copenhagen. But in Nuremberg Brun found quite a different picture of Germany than the one she had seen in Berlin:
"I will never forget what I saw there. The casualties of the war is brought to a large home for cripples, where they try to mend the most horribly mutilated soldiers. With endless patience they are trained to use the remains of their limbs, supported by iron splints. Imagine rows of men without arms or legs doing gymnastics to train their muscles. After lots of hard work they are given artificial limbs, and the endless training continues in their strive to master the new devices. All over Nuremberg you meet these cripples with their molested faces; deform, swollen faces where new skin has been attached to an otherwise torn cheek. I have talked to mothers and wives who, when they came from a visit to their dear one, only wished them death as the future was unbearable to think of."[10]
Life at the Stadttheater also proved taxing compared to what Brun had been used to in Copenhagen. A working day started at 9 AM even if she had sung a performance that ended at 11 PM the night before. On Sundays there were performances both in the afternoon and evening, and even if Brun was not appearing in a performance she was still expected to attend an evening rehearsal, often lasting until midnight. She several times sang major parts such as Leonore in Fidelio at short notice and without rehearsal. In addition she was also in demand from neighbouring houses in Augsburg, Köln and Würzburg – and in 1917 she sang in a Ring cycle in Regensburg. Quite a contrast to the idle life in Denmark, but with many artistic rewards for Brun. She sang all the Wagnerian heroines as well as the dramatic parts in operas as Fidelio, Un ballo in maschera, La Juive, Aida and Il trovatore.
Johanne Brun, or Johanna as she was known in Germany, quickly became a favourite with the Nuremberg audience. In November 1917 Brun sang in the first Nuremberg-performance of Eugen d'Albert's opera Die toten Augen, premièred only a year earlier.
When the performance came to an end the applause would never end. Large flower arrangements were brought on stage, and insisting shouts of "Die Brun, Die Brun" where heard everywhere. Outside the theatre people, mostly young girls, gathered to greet the Diva as she left the building. […] The following day the mayor of Nuremberg sent a letter of congratulation to Johanne Brun on behalf of the city.[11]
This was not the only example of operas new to Johanne Brun as well as to everyone else; two years later she took part in the first performance of Ein Fest zu Haderslev, an opera by the Nuremberg house conductor Robert Heger, and during her years in Nuremberg she also sang in Korngold's Violanta as well as the title role in Salome – an opera composed only a decade earlier. In 1920 she was hailed as a genius, no less, by the Nordbayerischer Zeitung for her Brünnhilde in another complete Ring performance, and her time in Nuremberg seems to have been a host of successes.
It is not clear why her contract then came to an end, but in April 1922 Brun sang Kundry as guest at the Stadttheater in Aachen, and in September that year she moved from Nuremberg to this town near the Belgian border. Here she again sang the dramatic soprano she had learned in Nuremberg, adding Herodias in Salome. But again her timing was bad. On January 11, 1923 France and Belgium occupied the Ruhr district, and Johanne Brun now more than ever wanted to return to her native country. Ever since she immigrated she had often sung at concerts in Copenhagen during the summer periods, and when she later that year visited Denmark she spoke to her old colleague Vilhelm Herold, with whom she had often sung in her early years in Copenhagen, and who was now artistic director at the Royal Danish Opera. On June 13, 1923 he wrote to Brun:
At the meeting we had a few days ago I spoke your case, but the Ministry has not yet decided next seasons amount concerning guest artists, and consequently no decision was made as to you. The old dragging-things-out-style! But next time you are in town please come and see me in my office. I still hope that we shall be able to find something for you to do. Receive the heartiest greeting from
              your old friend
                          Vilh. Herold
This must have been discouraging for Johanne Brun to read. The conditions in Aachen were hopeless, as she told a Danish journalist:
The Belgians are not very nice at all; if one passes the house of a general it is not allowed to use the pavement – I was literally thrown out into street by a Belgian guard on one occasion! Everyone are of course nervous, and have only one thought – money, money, money. As soon as we get our wages we hurry to spend it all, otherwise the money could be worth only half in a day or two! One day a pound of margarine went from 40.000 Mark to 80.000 in just half an hour. I am now receiving 9 million Mark a week! Everything is more expensive in Aachen than in the rest of Germany, and food is scarce. There are no train connections, and the mail is very unreliable. Parcels are not delivered at all. The shops are open one hour in the morning and one in the afternoon. Cars and bikes can only be used by foreigners, and the curfew dictates that you can not go out after 9 PM. One Sunday afternoon we had a performance at 4 PM, and just before the curtain went up we got a message that the curfew was changed to 8 PM that particular evening. We had to cut the opera in the last moment, and we were all frightened to death with the thought of not being able to finish on time.
With the beginning of 1924 Johanne Brun finally escaped Aachen, and was to begin a new life in Danzig (now Gdansk), then a free city under the sovereignty of the League of Nations. Here she signed a contract that would again allow her to sing her best roles; Senta, Ortrud, Isolde, Ariadne, Leonora in Fidelio and Brünnhilde in Siegfried. When news of this new contract came to the Danish press, one critic managed not only to declare Johanne Brun his devotion and love – but also to insult both her and the entire population in the former Polish city:
It is nerve-wracking to think that Mrs. Johanne is going to spent weeks, maybe even months in a city like Danzig. The city is run by the English, but that might even be; they are all cleanly people who use the I.P. Muller system [of home gymnastics!]. But who are the attendants at the opera there? The majority are dirty and verminous Poles with sausage sandwiches and bananas in their pockets to eat during the intervals, oozing garlic and illicitly distilled liqueur. […] Johanne Brun still has an astonishingly fresh, youthful, rounded and soft voice. Lovely is the word! The madam is not quite young any longer; she also has her obesity to cope with. She weighs approx. 230 pounds now – she is no speck, no particle, no molecule. […] But what is obesity and age when on the other hand there is beauty, stateliness, the sweetest face and the appearance of a true queen.    
In the spring of 1924 Johanne Brun finally returned to the Royal Danish Opera if only for a single appearance as Philine in Mignon, a part that one could easily suppose would hardly show off the best qualities of a Wagnerian soprano at the age of 50. And it is indeed hard to see why the management not chose to give her an Isolde instead – Tristan was in the repertory for that season. Nevertheless the critics marvelled at the ease and beauty of the voice that seemed only firmer and more controlled than when she was last heard on the stage here. On April 2 she finally was given the chance to show once more her real powers at the Royal Danish Opera as Brünnhilde in Die Walküre. And that was it. Johanne Brun was never to appear on the opera stage of her native city again.
In 1925 she returned to live in Copenhagen. But with no regular income something had to be done. She had lost all her savings during the German inflation, and she had no pension from the Royal Opera to rely on. But she was not forgotten by the Danish public and her friends. It was arranged that she could work from home selling lottery tickets for the National Lottery, and she was also given a yearly sum from the State.
In 1936 Brun was drawn from retirement by the Danish record collector Knud Hegermann-Lindencrone, who had initiated the recording of a 7-record set to capture on record the performances of the Danish singers who created Wagner's operas at the Royal Danish Opera. Johanne Brun sang from Das Rheingold, Götterdämmerung and Tristan und Isolde. Here her voice is well past its prime, but with a bit of imagination it is quite obvious that it is the voice of a major Wagnerian soprano.
Brun lived quietly in Copenhagen, hugely enjoying her grandchildren and great-grandchildren for the next couple of decades. She died on February 3, 1954, nearly 80 years of age, and the critic Axel Kjærulf wrote in her obituary:
Her mind was clear to the very end of her life, full of wit. She closely followed the development at the Royal Opera, and if one met her there, one was met with the sweetest of smiles, the biting sarcasm that she still possessed, and above all with the love she felt for the art she had so gloriously served.[12]
ACKNOWLEGDEMENTS:
I would like to thank the following persons for invaluable help: Jens Hansen, Copenhagen; Erik Kajstrup, Frederiksberg: Emil Marott, Højby; Niels Ravn, Gentofte; Henning Thorbjørnsen, Charlottenlund; Henning Trab, Statens Mediearkiv, Århus; Julius Wedege, Copenhagen; Lisbeth Grandjean and Ida Poulsen, Teatermuseet, Copenhagen.
This article was previously published in The Record Collector magazine.
Notes:
[1] Charles Kjerulf: Gift og Hjemfaren, 1917
[2] Politiken, February 4, 1954
[3] Dannebrog, March 9, 1896
[4] unidentified newspaper interview made ca. 1903
[5] Leopold Rosenfeld in Dannebrog, October 7, 1902
[6] this probably includes individual piano rehearsals with coaches of the house. From an interview in Masken, 1914.
[7] Berlingske Tidende, August 22, 1944
[8] Folkets Avis, May 11, 1916
[9] Interview in Berligske Tidende, summer 1916
[10] Interview in Berligske Tidende, summer 1916
[11] Ekstra Bladet, November 20, 1917
[12] Politiken, February 4, 1954